Ever since the plastic kit came out I've been wanting to get a giant for my Orc and Goblin army. A couple of months ago I finally picked one up. Since then I've been itching to get to work on it. To make him a bit different I gave him a bone pate protector made from the head of the dragon bone club from the kit. A little cutting and sanding was all that was needed.
I wanted the giant to have a darker tanned skin tone so I started out with a basecoat of Beastial Brown. Working with a #4 round brush I layered thinned down Bronzed Flesh onto the raised areas and gently blended into the creases and crevices. Varying the amount of pigment/water I went over the model building up the highlights.
The next level highlights followed the same process but with Elf Flesh and a #2 round. This time I concentrated on bringing out detail and form.
Skull White was added to Elf Flesh for the highest highlights. This was applied sparingly to the highest highlights. To this point I had been treating the face the same as the rest of the model but now using finer brushes I added more levels of highlight and took more time blending.
To add some life I blended thinned Liche Purple around the cheeks, nose and eyes. Liche Purple was also used for the lips which were then highlighted with Imperial Purple. Liche Purple was blended into the shadows around the figure and on areas such as elbows and knuckles. I aslo stippled some thinned Liche Purple around the waist, buttocks and thighs to simulate stetch marks and chaffing.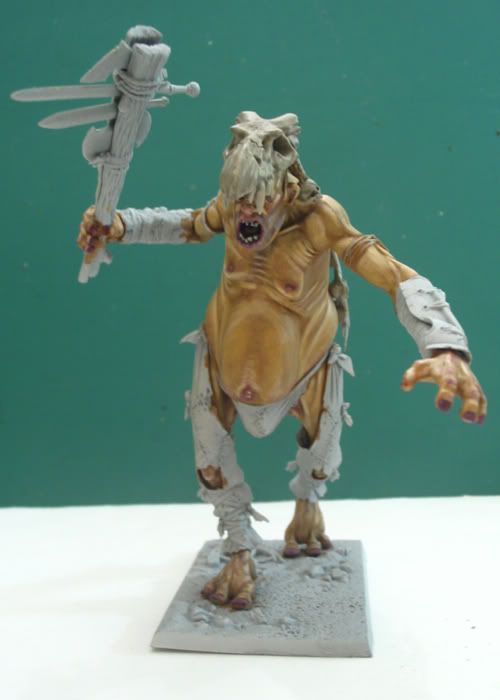 A 5 o'clock shadow was added using a thin wash with a 2:1 mix of Blue Grey and Elf Flesh. The teeth were basecoated Scorched Brown, picked out with Deneb Stone and highlighted with a 1:1 mix of Deneb Stone and Skull White.
GB